As President Joe Biden struggles to reverse a steady decline in popularity at home, the US leader's efforts to champion democracy across the globe has generated some positive reviews among allies in Europe, according to a new study published by the Denmark-based Alliance of Democracies Foundation and Germany-based Latana data tracking firm.
However, the same polling also found that other parts of the world were less enthusiastic about Biden's approach, with Asia, in particular, turning against him.
The findings appeared in the latest installment of the annual Democracy Perception Index, which was released on Monday. The study explored public opinions of democracy among 52,785 respondents across 53 nations and territories surveyed between March 30 and May 10 of this year.
Last year's report described a "Biden Bump," in which "perceptions of the US's influence on global democracy improved substantially in almost all countries, from the spring of 2020 to the spring of 2021."
This year, however, a "Biden Divide" was observed. This was because "attitudes towards the US have begun to diverge: the critical attitudes in Europe have improved significantly, while the generally positive attitudes in the rest of the world have slightly declined."
Among those in which a net positive attitude was expressed last year, the biggest jumps were seen in Poland, Ukraine and Portugal, in which the favorability increased by 32, 25 and 19 points, respectively. Romania, which also already felt the US was mostly good for global democracy, also saw a slight bump of 5 points.
Perhaps even more substantial, however, was the shift seen across those who had been more critical than supportive of the US role. The views of that role in Belgium, France, Germany, the Netherlands, Norway and Sweden changed significantly over the past year, and all now have slightly more positive than negative views of the US influence on global democracy.
Denmark and Ireland went from negative to now being on the fence, while Spain, once directly in the middle, has now joined those more in support of Biden's democracy efforts than opposed. Spain, which was neutral last year, now sees the US influence as slightly more constructive for democracy.
Notably, Hungary, Italy and Portugal, which previously had negative views of the US impact on democracy, saw those negatives increase. Similar results were seen in Greece, which had been mostly disapproving of the US role, and grew more critical this year.
Altogether, Europe saw a net positive gain of 13 points in favor of the US influence on democracy.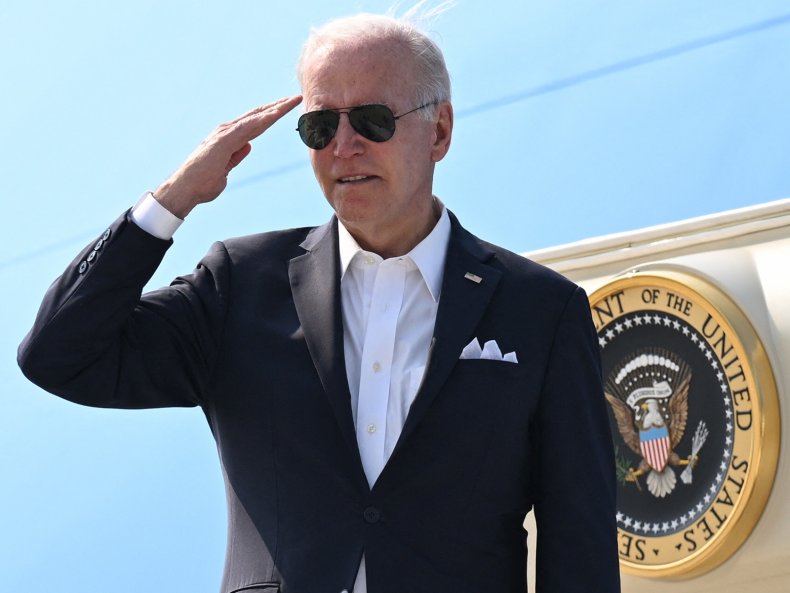 Meanwhile, Biden has hit a low for his presidency, with Reuters placing his approval rating at 36% and his disapproval at a high of 59% in a poll conducted in collaboration with Ipsos and published Tuesday. Although a personal low, that 36% approval rating is higher than the low point of every president who preceded him beginning with Jimmy Carter, with the exceptions of Barack Obama (higher at 37%) and Bill Clinton (tied at 36%), according to the Roper Center at Cornell University.
Other surveys released more recently were slightly more generous, as FiveThirtyEight's polling average put the president's approval at 40.6% and disapproval at 54.2%. All polls portrayed a rather dreary picture of the president's popularity ahead of midterm elections in November.
The divide in global views came as Biden led a global campaign to unite democracies against the backdrop of Russia's war in Ukraine, now in its third month.
The push for stronger sanctions against Moscow and greater support for Kyiv has been mostly well-received among allies. The goodwill followed a largely critical reaction to the tumultuous US exit from Afghanistan last August, when NATO allies also involved in the US-led mission alleged a lack of communication from the Biden administration as it ended a two-decade war in the country.
The chaotic withdrawal also stirred controversy in the US However, with the country's focus having shifted to the conflict in Ukraine, slightly more approve than disapprove of Biden's handling of the crisis. Some 47% view the president's response as positive while 45% see it as mostly negative, according to a Pew Research Center poll released on May 10, the end date for the Democracy Perception Index's survey period.
But other factors have hampered Biden's popularity, including economic woes compounded by inflation and rising energy prices. Other issues such as a baby formula shortage and a recent spike in mass shootings have frustrated potential voters, as Democrats seek to stave off a Republican attempt to wrest back control of Congress later this year.
And as Biden contends with domestic pitfalls, the Democracy Perception Index showed that many of those living outside of Europe grew more critical of the US impact on diplomacy across the globe over the past year.
With the exception of South Korea, where respondents felt more positively about the US role, the opinions of those asked in every country in East, South and Southeast Asia, as well as the disputed island of Taiwan and the Chinese special administrative region of Hong Kong , lessened toward Washington's influence on democracy over the past year.
These countries included Vietnam, the Philippines, India, Thailand, Hong Kong, Taiwan, Pakistan, Indonesia, Japan, Malaysia, Singapore and China, which was notably the only nation in this region to have a net negative view of US impact on democracy and one of the most negative among all those asked.
Though still among the most supportive, Vietnam, once the most approving of all those surveyed on how the US has affected international efforts on democracy, has since been surpassed in the top spot by Poland.
The results in these parts of Asia may prove consequential as Biden seeks to promote a US-led "Indo-Pacific" strategy largely geared toward countering China's influence in the region.
A similar negative trend was observed in the Middle East and North Africa, where survey respondents in Morocco, Israel, Iran, Saudi Arabia, Egypt and Algeria all were more critical over the past year about the US effect on democracy. The view in Turkey, previously the only country to disapprove more than approve of the US impact before being joined this year by Algeria, improved somewhat, but still remained in the negative range overall.
Both the East, South and Southeast Asia region and the Middle East and North Africa region saw a net 10-point negative slide.
Latin America produced mixed results, as Brazil, Venezuela and Mexico grew more critical while Colombia, Peru, Chile and Argentina became more approving. All countries surveyed in this region had a net positive view, and this perception gained a single positive point in the net results both in Latin America and among all regions surveyed.
As for nations elsewhere, Canada and Australia saw significant positive gains at 20 points each, making their views toward their mutual ally's influence on democracy now more favorable than unfavorable. Russia, on the other hand, saw one of the most substantial declines at 25 points, a drop matched only by Indonesia, and making Russia once again the most dismissive of all surveyed on how the US has helped shape democracy among the international community.
Those in the US, however, had a slightly more positive view of their own country's efforts toward supporting global democracy, with an already most supportive view gaining seven points in comparison with last year's results.
And while the global average of those who say the US was beneficial for democracy stood at slightly less than half at 48%, this response was significantly higher than the 34% who felt the US did more harm than good.
Washington fared even better when it came to the overall perception of the US, which gained a net positive 22 points. The only countries with a more negative than positive perception were Hungary, Switzerland, Turkey, Austria, Greece, Indonesia, Russia and China, whose overall view of the US over the past year grew more critical than any other nation, with a striking 58% decline in approval.