The world of sim-racing is going to expand soon, as a new title by the name of Rennsport is set to land in 2023.
Originally announced in April, the company developing RennsportCompetition Company GmbH, held a sim-racing summit in its native Munich to expand on precisely what Rennsport is — and isn't — as well as offering the chance for esports personalities to experience the title for themselves.
Competition Company is headed up by CEO Morris Hebecker. The name might not be familiar, but Hebecker is also CEO of Morphicon, a publisher involved in titles including ArmA II expansion Arrowhead. As a developer, CC has a staff count of around 45.
What Platforms Will Rennsport Support?
Rennsport will be a PC racing game. While CC isn't specifically ruling out consoles at this point in time and does describe it in job postings as "x-platform", the fact is that a lot of what's planned for Rennsport is simply easier to accomplish on PC.
That said, the title is developed with Unreal Engine 5. UE5 will be used for the game's visuals, while CC will run a custom physics engine beneath it, with Monster Truck Championship lead programmer Krzysztof Szczech moving from Teyon to the same role at CC.
What's The Theme of Rennsport?
The name itself — the German word for "racing" — doesn't offer up any particular clues for the theme of the title. However the game's initial launch material described it as an "ultra-realistic racing game", and hinged heavily on two GT3 racing cars: the BMW M4 GT3 and the Porsche 911 GT3 R. That includes the first ever gameplay video, from the alpha build :
While that might sound a lot like Assetto Corsa Competizione, the summit also introduced a third car to the mix in the shape of Porsche's Mission R concept. That suggests that GT3 racing might not be the sole focus of the vehicle offerings.
Cars and Tracks?
As you'll see above, the current build features the Hockenheimring circuit. The summit build included a course not particularly well known as a GT3 racing circuit: Goodwood's Hillclimb.
This might be connected to the fact that CC plans to post Rennsport rigs at the Festival of Speed ​​this summer, but it's an interesting course to have in a grand unveiling.
For now only the two Porsche models and the BMW are included, but that's only in this Alpha build. We'll hear more in due course.
Key Features
VR support should be available out of the box, and CC is working with Epic Games to make triple-screen support possible — citing an issue with UE5 that limits it. Dynamic time of day and weather looks like it'll miss the launch window, but dynamic track surfaces should land in time.
One thing Rennsport will focus on particularly is esports. There are plans to have a driver ability and sportsmanship ranking system, similar to some other titles, and CC has partnered with ESL Gaming GmbH — known for its Battlefield, counter strike, DOTAand World of Tanks tournaments — in anticipation of major organized events.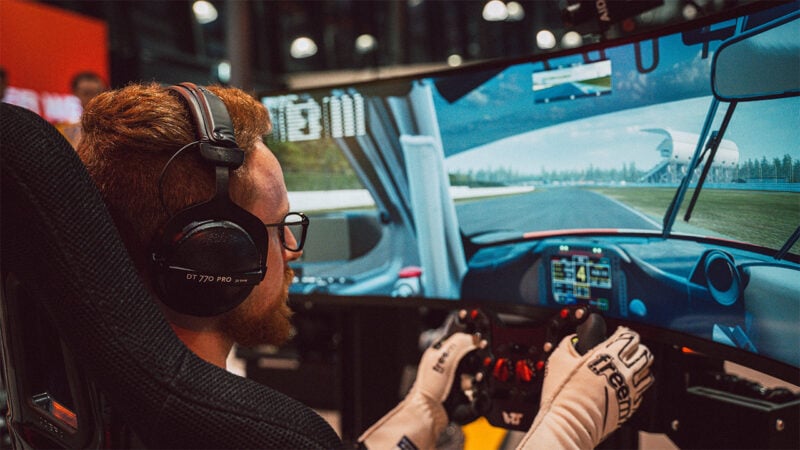 There's two further crucial aspects to Rennsport. The first is that, like RaceRoom Racing Experience, CC plans for it to be free-to-play. That means it will consist of a core bundle of tracks and cars that come free of charge, with the player able to purchase add-ons as they see fit.
However there are also plans for that door to swing both ways and have players sell content too — although quite how that will work is a mystery at present.
"Digital Ownership"
In principle, every car in Rennsport will have its own unique electronic vehicle identification number (VIN) just as real-world cars do. That means each car will be distinct from the many others like it, carrying with it its own history. Players will also be able to create vehicles, by way of game mods.
You could then sell your cars to other players through an unspecified marketplace, although CC has yet to identify the technology that will underpin the transactions. Although, by definition, these items would be non-fungible, Hebecker is adamant that Rennsport is "not a ****ing NFT game".
A public beta will be available later in 2022, with an open beta in 2023 before a late-23 launch window. Players will also be able to try the title out at the Goodwood Festival of Speed ​​in 2022, and Rennsport is staging a roadshow for the game — seemingly at destinations around Germany — right now.