LOUISVILLE, Ky. (WDRB) – The Jefferson County Board of Education passed a major shift in its student assignment plan Wednesday as Kentucky's largest school district hopes to improve outcomes for some of its most disadvantaged students.
The board voted 7-0 on the changes, which would establish "choice zones" in and near Louisville's West End and central business district to give families options to send their children to middle and high schools closer to their homes, align school boundaries with high school enrollment borders to better streamline student progression and expand magnet offerings to a more diverse population of students.
Wednesday's vote represents the most significant change to the district's student assignment plan in decades.
The changes will take begin taking effect during the 2023-24 school year, when the first classes of kindergarten, sixth grade and ninth grade students will begin in their new schools based on the revised student assignment plan.
"This is a historic moment for us tonight that we have been preparing for for many months and years," JCPS Superintendent Marty Pollio said. "…This will have the most positive impact on students of anything we've done in this district in decades, and this is the most important vote that this board has taken in decades."
The district's student assignment proposal relies heavily on choice zones that encompass neighborhoods in and near west Louisville and the central business district, effectively replacing the patchwork of satellite resides areas used for school assignments there now.
Families living in those areas could choose to send their children to a new west Louisville middle school and the Academy @ Shawnee or another middle and high school based on their addresses. Pollio said the district would need to provide a temporary location for the new middle school because a new school could not be built in time for the 2023-24 school year.
"We are closing in on a few options that we think we'll be presenting publicly soon," he told reporters after the board's vote Wednesday. "Finding enough land for a school in an urban setting is much harder than what I expected."
The district plans to pump $12 million per year into Shawnee, the new west Louisville middle school and elementary schools in the choice zone boundaries for resources like smaller class sizes, more mental health and counseling supports, and increased pay for staff.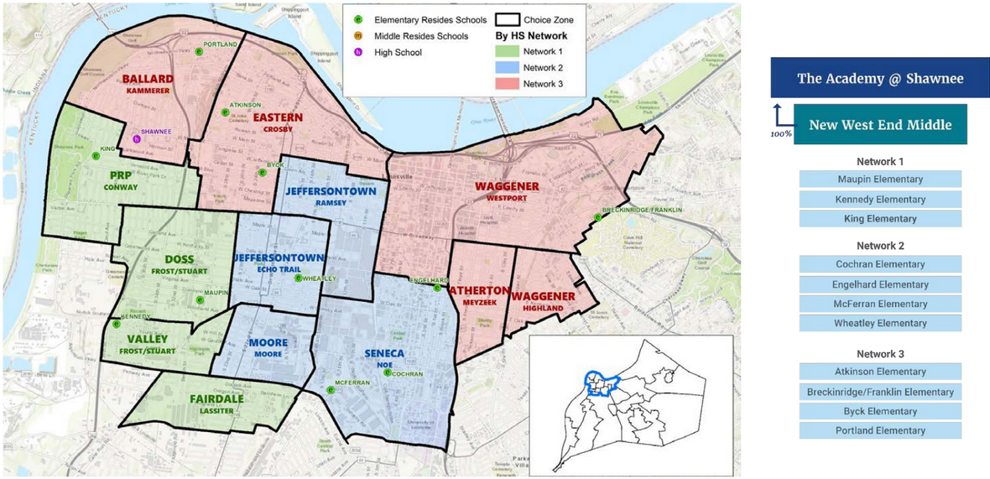 "Today can be a new beginning for JCPS," said Corrie Shull, the board's vice chairman who represents District 6. "It can be a new beginning for Black children, and it can be a new beginning to rebuild trust."
Faye Owens with the Coalition of Retired Black Principals and Administrators shared cautious optimism that revisions to the district's student assignment plan would improve academic outcomes for Black JCPS students.
"We want JCPS to succeed and hope that the plan is successful for all students, especially Black students," she said in addressing the board before members voted Wednesday. "We support the plan, but I'm still concerned about student achievement, implementation of the plan, accountability and diversity."
Choice zone schools could also get another financial boost from the Jefferson County Public Education Foundation. Pollio said during a May 24 board meeting that he is in talks with the 501(c)(3) nonprofit to match parent teacher student association and booster club funding levels at other JCPS schools for those in the district's proposed choice zone.
That could mean tens of thousands of dollars more for schools serving students from low-income households. Pollio said at the May 24 meeting that he is "challenging" the foundation to make that commitment starting in the 2023-24 school year, when the first kindergarten, sixth grade and ninth grade students will begin enrolling in schools through the choice zone plan if the student assignment overhaul is enacted.
"They're going to step up and do that," Pollio told reporters. "I feel confident. I don't know if they were ready for me to announce that publicly."
The district also plans to increase magnet program offerings, set diversity goals for the programs and end school-initiated "exits" of students, meaning magnet schools could no longer kick students out.
The board's vote came hours after the Louisville Branch NAACP and Coalition of Retired Black Principals and Administrators announced their support for the district's student assignment proposal after securing several assurances from JCPS leaders.
Raoul Cummingham, president of the Louisville Branch NAACP, said both groups negotiated several additions to the proposed student assignment plan with district leaders. Both organizations expected the proposal to pass "with a wide majority" based on conversations with JCPS board members Diane Porter, Shull, James Craig, Linda Duncan and Joe Marshall, he said.
"Rest assured, we are going to hold their feet to the fire on this," Cunningham said.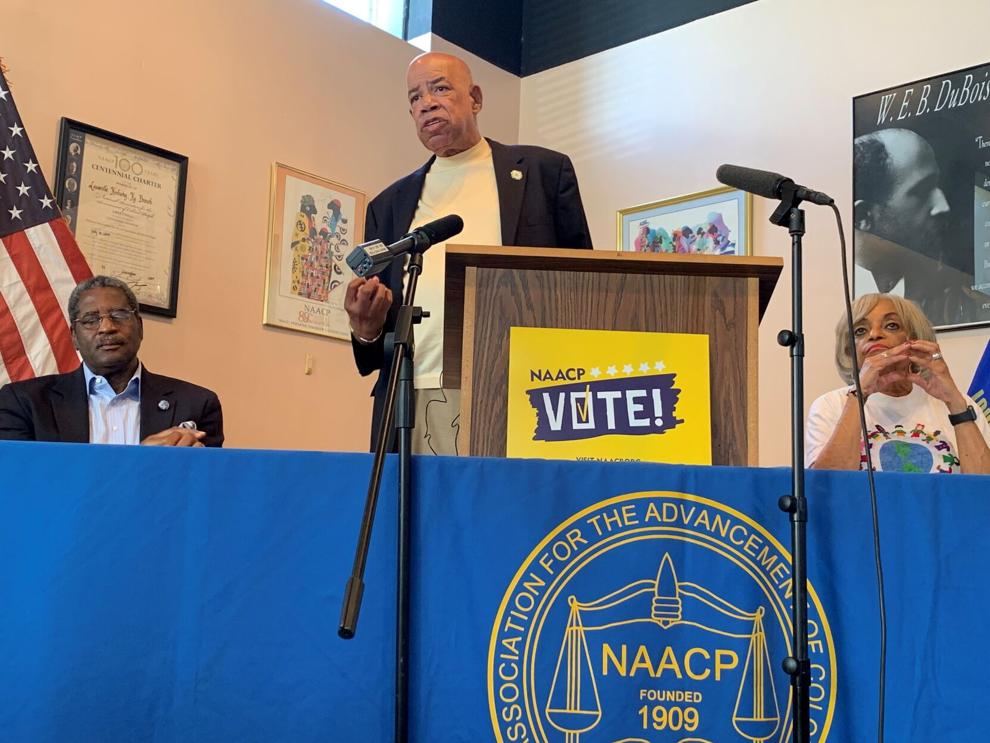 Commitments the organizations say they received from JCPS include:
A policy commitment to provide additional financial support to choice zone schools for 10 years, with quarterly and annual review of staffing and budgets at those schools and comparisons between resources provided for choice zone schools and others of similar size in JCPS.
Adding academic outcomes to performance metrics to review progress of the student assignment changes
Improving athletic facilities at the Academy @ Shawnee and Western High.
Establishing the next performing arts magnet school in west Louisville.
Guaranteeing the first or second choices in elementary school clusters for families in the choice zone.
Capping class sizes at 20 students per instructor in choice zone schools.
Paying teachers, principals and administrators in choice zone schools between $8,000 to $14,000 more than their peers.
Pollio has suggested differentiated pay for staff in choice zone schools, but Wednesday's news conference was the first mention of specific amounts for salary increases.
Pollio said during Wednesday's board meeting that a contract agreement with the Jefferson County Teachers Association may be presented to the board for a vote Tuesday, though he did not present specific figures to the board.
He told reporters that he hoped to be in the range cited by Cunningham during the Louisville NAACP's press conference with the coalition of retired Black administrators, but he noted that the JCTA and JCPS boards would ultimately make that decision.
High staff turnover "is the most damaging to student achievement in our high-poverty schools," Pollio said.
"What I think this solidifies is the opportunity for staff to remain, to stay, to have retention at a school because there is financial incentive to be there," he said.
JCTA President Brent McKim said negotiation on differentiated pay in choice zone schools are ongoing.
"We do not discuss specific details unless there is an impasse or something of that nature," he said in a message to WDRB News.
Support from the Louisville NAACP and coalition of retired Black administrators is conditional, however. Cunningham said commitments in the plan must be implemented, the district must improve its accountability process, JCPS must work to build trust in the community, and JCPS must recognize commitments made in the student assignment plan as "moral and contractual."
Demonstrating long-term commitments to the newest edition of the student assignment plan, particularly in school resources, proved key in securing Wednesday's "very meaningful" unanimous vote, Pollio said.
Pollio acknowledged that some in Jefferson County distrust JCPS and "rightfully" fear that the district would not follow through on its promised investments in some of Louisville's neediest communities.
"We're doing everything we can to make sure that we codify all of these things into policy and in the plan so that the community sees it for years to come," he said.
Porter, the board's chairwoman who represents District 1, said Wednesday's vote was just the beginning for the district's work.
"Please join this board of education, this superintendent, this staff as we move forward to work together to provide for the education that our students deserve," she said. "We cannot do it ourselves."
Copyright 2022 WDRB Media. All Rights Reserved.
.