Ukrainian President Volodymyr Zelensky on Thursday said Russia's war on his country was "reminiscent of World War II, when Nazi aggression threatened the lives of entire nations."
Zelensky made the comparison during an address delivered to lawmakers in Luxembourg. Appearing via video, the leader thanked the country for providing Ukraine with weapons for its continuing conflict with Russia that will reach the 100-day mark on Friday.
Zelensky's remarks came a day after the Office of the United Nations High Commissioner for Human Rights reported that a total of 4,149 Ukrainian civilians have been killed since Russia launched its military attack on February 24. The UN also said 4,945 Ukrainian civilians have been injured while adding that the actual figures for both counts could be "considerably higher."
Noting that he was especially appreciative toward Luxembourg for its support because he does not have "large military depots or significant defense industry," Zelensky discussed why he feels the international community should band together against Russian President Vladimir Putin.
"We understand that no one will be able to stay away and avoid being affected when a catastrophe of such enormity occurs in the world because of the Russian state," Zelensky said.
He continued, "It is reminiscent of World War II, when Nazi aggression threatened the lives of entire nations. Therefore, we must significantly increase the pressure on Russia to stop this catastrophe and prevent such aggressions in the future."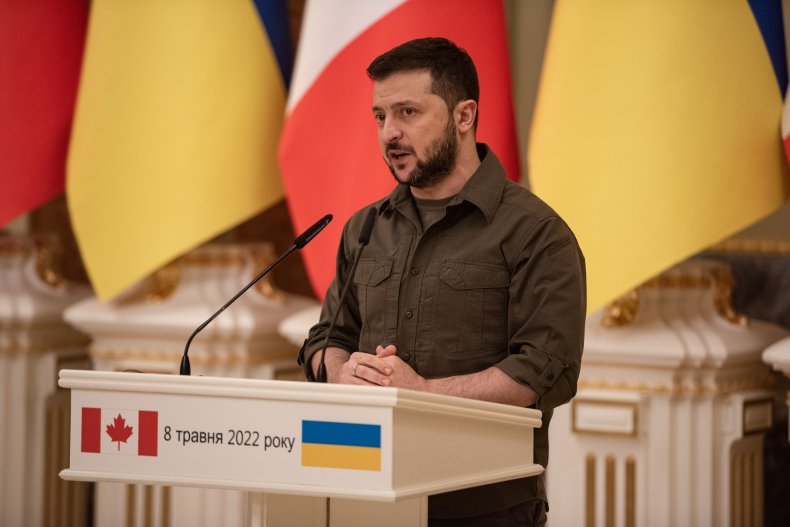 Zelensky said Russian troops currently control approximately 20 percent of Ukraine, which he said equals to almost 125 thousand square kilometers. He also said around "12 million Ukrainians have become internally displaced persons" and "[m]ore than 5 million, mostly women and children, have gone abroad." The numbers he cited were consistent with recent UN reports.
Luxembourg announced in May it would send defensive weapons to Ukraine. The country is one of many nations providing armaments to Ukraine. On Tuesday, President Joe Biden said the US would add to the supplies it has already sent to Ukraine by providing Zelensky's forces with an undisclosed amount of M142 High Mobility Artillery Rocket Systems.
During a joint news conference on Wednesday with US Secretary of State Antony Blinken, NATO Secretary General Jens Stoltenberg discussed the alliance's backing of Ukraine in defending itself against Russia and the high cost of such efforts. He said if Putin were to win the war, "the price we'd have to pay would actually be higher than to now invest in the support for Ukraine."
Newsweek reached out to the Russian Foreign Ministry for comment.